247UReports
How Journalists, Monarchs And Religious Leaders Are Scamming Enugu PDP
[]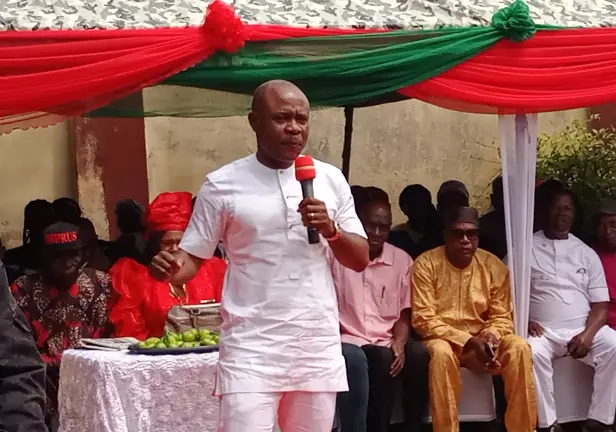 Peter Mba
= 1140 ) { /* large monitors */ var adEl = document.createElement("ins"); placeAdEl.replaceWith(adEl); adEl.setAttribute("class", "adsbygoogle"); adEl.setAttribute("style", "display:inline-block;width:468px;height:60px"); adEl.setAttribute("data-ad-client", "ca-pub-1809266897096130"); adEl.setAttribute("data-ad-slot", "1155613815"); (adsbygoogle = window.adsbygoogle || []).push({}); } });window.addEventListener("load", function(){ var placeAdEl = document.getElementById("td-ad-placeholder"); if ( null !== placeAdEl && td_screen_width >= 1019 && td_screen_width = 768 && td_screen_width < 1019 ) { /* portrait tablets */ var adEl = document.createElement("ins"); placeAdEl.replaceWith(adEl); adEl.setAttribute("class", "adsbygoogle"); adEl.setAttribute("style", "display:inline-block;width:468px;height:60px"); adEl.setAttribute("data-ad-client", "ca-pub-1809266897096130"); adEl.setAttribute("data-ad-slot", "1155613815"); (adsbygoogle = window.adsbygoogle || []).push({}); } });window.addEventListener("load", function(){ var placeAdEl = document.getElementById("td-ad-placeholder"); if ( null !== placeAdEl && td_screen_width Advertisement
The governorship and state assembly elections are a week away, but everyone knows the party that will win overwhelmingly in Enugu State.
The Labour Party (LP) may do better than in the February 25 presidential and national legislative elections owing to a number of developments, including the devastating defeat of the ruling Peoples Democratic Party (PDP) which saw Governor Ifeanyi Ugwuanyi not only lose by 46,948 to104,492 votes in the Enugu North senatorial zone to little known LP's Okey Ezea but also humiliated in his polling booth as well as ward.
Observes Osy Sam-Ede, an Abuja-based journalist from the state: "Even some prominent PDP leaders who ran for Enugu governorship on the party's platform last year like Captain Everest Nnaji, the chief executive of OdengeneAviation Services, and Emmanuel Uche Ogbodo, a Senior Special Assistant to Governor Ugwuanyi, have joined the Labour Party and even participated in the primary election for the party's Enugu East senatorial ticket last Sunday only to lose by a wide margin to Sir Kelvin Chukwu, a younger brother of the slain LP candidate, Chief Oyibo Chukwu, a former Nigerian Bar Association chairman".
To complicate matters for the PDP candidate, the two most prominent politicians supporting him now appear as political orphans. Since his crushing defeat from his polling booth upwards, Governor Ugwuanyi, who unilaterally chose Mbah as his heir apparent and so made the PDP May 25 Congress at Okpara Square a mere formality, has not been seen in public, nor has he issued a statement on any issue. Both the Governor's Lodge and Government House now look like graveyards. "There has not been any life in any of these places since February 25", a Government House correspondent who doesn't want his name in print told his editor in Lagos today in a telephone conversation.
Senator Chimaroke Nnamani, who sold Mbah to the powers that be in the state, has been having the most difficult battle of his life in recent weeks. Nnamani, under whom Mbah served as the Chief of Staff and later the Commissioner for Finance, has been expelled from the PDP which has written two letters to the Independent National Electoral Commission (INEC) disowning him.
Chukwudi Ani, an Enugu-based attorney, has argued that Nnamani cannot contest in the National Assembly election which will now hold on March 18 because he "does not belong to any party anymore. The Nigerian Constitution and the Electoral Act make it abundantly clear that only candidates sponsored by political parties can be considered in an election".
As though to worse matters for the PDP, the Ebeano group founded during the time of Nnamani as the Enugu State governor from 1999 to 2007, has been accused of responsibility for the assassination of the original LP candidate in the Enugu East senatorial contest. Curiously, the group has neither denounced the assassination nor sent condolences to the Chukwu family. What is more, the PDP administration, too, has neither condemned the murder nor consoled the family. Yet, the late Chukwu was its state secretary. All this makes the Enugu people raise eyebrows. The PDP which has been ruling Enugu since the restoration of democratic rule in 1999 "is now damaged goods", George Ugwu, an engineer and former member, stated yesterday in a press statement.
Still, some individuals are prodding the PDP governorship candidate to not only continue to campaign energetically but spend far more resources than he has expended since he began to campaign seriously to succeed outgoing Governor Ugwuanyi, according to John Igwesi Jnr, a lecturer at the University of Nigeria, Nsukka. "This is nothing other than grand deception, complete 419", he said in Enugu this afternoon.
Igwesi identified those he accused of fleecing the PDP candidate as journalists who are induced with mouth-watering amounts to write favourable stories about how he will win by a great margin, traditional rulers who move from one prominent person to another and asking them tepidly to vote for Mbah, and even a couple of priests who are defying a longstanding Vatican order by getting involved in partisan politics.
Some priests arranged for Mbah to address last Sunday( March 5) a gathering of 3000 youth across the state attending the 2023 Youth Lenten Week at the Ugwu Di Nso Pilgrimage Centre at Eke in Udi Local Government Area. "But Mbah was not allowed to utter a word", recalled Ngozi Ngwu, a mass communication student who participated in the event. "He was booed endlessly by the youth who kept on shouting and singing praises of the Labour Party and its candidates. Even the water and soft drinks he wanted to give were destroyed by the irate youth who were short of attacking him and the priests physically".
An undeterred Mbah proceeded the same day to the Assumption Parish at Nkwo Nike on the outskirts of Enugu where almost a similar drama was enacted. The parish priest, Father Celestine Nwogbu, was thoroughly abused by parishioners. It was the same experience for Father Christopher Okechukwu of Our Lady of Perpetual Help Parish in New Haven, Enugu, where congregants shouted him down when he tried to campaign for Mbah. Not even his apology that he was merely executing an "order from above" could stop congregants from leaving the mass before the service was over.
Nick Orjiudeh, an engineer and retired air commodore with the Nigerian Air Force, believes that those egging on Mbah to continue to outspend all his opponents combined, "know in their heart of hearts that they are not doing him a favour. The governorship battle has long been won and lost, and the Enugu people and all Nigerians know the Labour Party has won. There is no way Mbah can be governor even in the unlikely event he wins because he submitted a forged National Youth Service Corps (NYSC) discharge certificate to INEC which is a criminal offence. The pair which won the Bayelsa State governorship almost three years ago was replaced 24 hours before the swearing-in because the deputy governor-elect, not even the governor-elect, was found by the Supreme Court to have submitted false information to INEC".
Pastor Joseph Ogbu of the Light Church in GRA Enugu informed the congregation this morning, "all those encouraging Mbah to continue to spend and spend and spend are only interested in his money. We have been informed that he borrowed N13 billion to finance his Pinnance Oil and Gas Company in Lagos, and is spending a substantial sum on his campaign. These professional do-gooders are targetting the N13bn or substantial part of it".
= 1140 ) { /* large monitors */ var adEl = document.createElement("ins"); placeAdEl.replaceWith(adEl); adEl.setAttribute("class", "adsbygoogle"); adEl.setAttribute("style", "display:inline-block;width:468px;height:60px"); adEl.setAttribute("data-ad-client", "ca-pub-1809266897096130"); adEl.setAttribute("data-ad-slot", "3080621151"); (adsbygoogle = window.adsbygoogle || []).push({}); } });window.addEventListener("load", function(){ var placeAdEl = document.getElementById("td-ad-placeholder"); if ( null !== placeAdEl && td_screen_width >= 1019 && td_screen_width = 768 && td_screen_width < 1019 ) { /* portrait tablets */ var adEl = document.createElement("ins"); placeAdEl.replaceWith(adEl); adEl.setAttribute("class", "adsbygoogle"); adEl.setAttribute("style", "display:inline-block;width:468px;height:60px"); adEl.setAttribute("data-ad-client", "ca-pub-1809266897096130"); adEl.setAttribute("data-ad-slot", "3080621151"); (adsbygoogle = window.adsbygoogle || []).push({}); } });window.addEventListener("load", function(){ var placeAdEl = document.getElementById("td-ad-placeholder"); if ( null !== placeAdEl && td_screen_width Advertisement